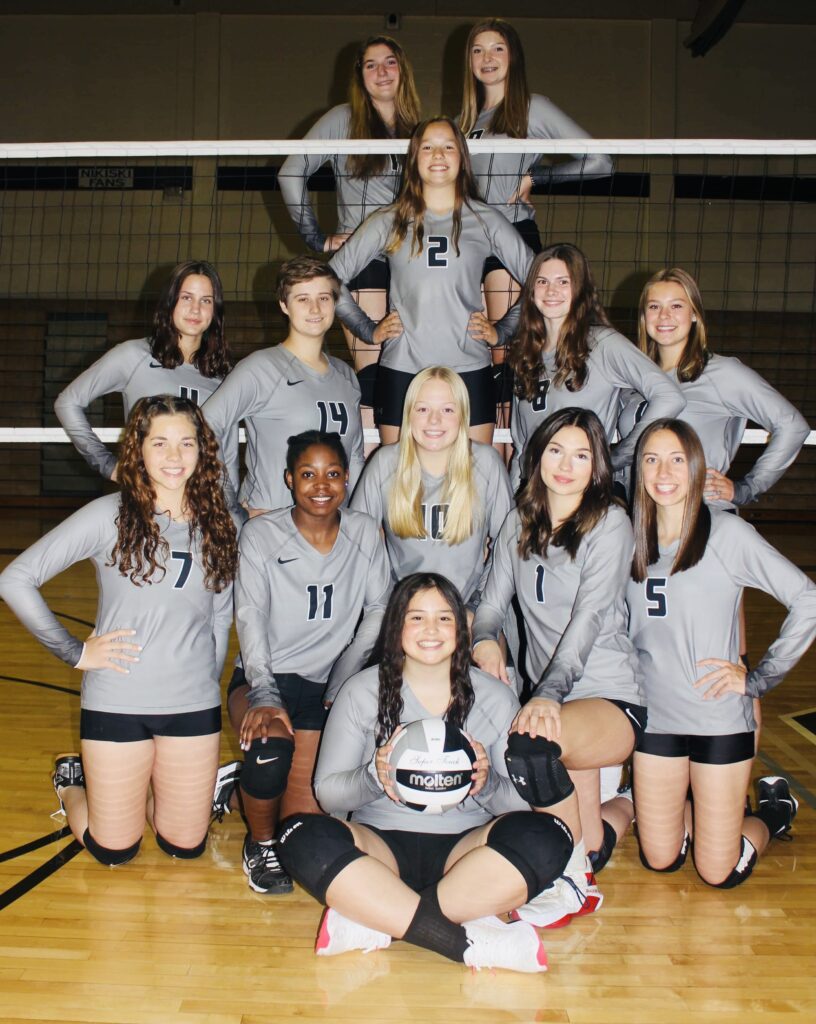 Coach:  Stacey Segura –  Cell Phone: 
(907)690-0893
Assistant Coach: Krystal Keith
Assistant Coach: Jen Hornung
The Nikiski Volleyball Team will be traveling to Anchorage this Thursday October 7th, 2021. The team will be leaving at 12:30pm from Nikiski High School.  The games will be live streamed at the link provided, attached is the game schedule. The team will be eating meals away from home during this trip and should plan accordingly. We will be staying the night at MYPLACE Hotel Thursday and Friday night. Thursday night we will be eating a team dinner at Texas road house, This meal will be paid for. After dinner we are attending the UAA Volleyball game at the Alaska Airlines Center. The entry to this game is free. MASK MUST BE WORN AT THE UAA GAME. Tournament play will start Friday morning. The Volleyball team will be returning home Saturday night. Provided below is a list of attire for volleyball travel activity, if a student does not have these items THEY WILL NOT travel with the team. Thanks for the support.
Coach Segura
Volleyball travel gear
1 weather appropriate coat
1 pair of closed toed shoes
Pair of gloves
Hat
* Coaches are responsible for checking that each student had these items in possession before leaving the school's parking lot. If a student cannot obtain these items before departure time, she will not be allowed to travel with the team.
First Practice – Wednesday, August 5, 2020
Link to current schedule:  ArbiterLIVE
LIVE STREAM LINKS:
C Team Roster
| | | | | | | | |
| --- | --- | --- | --- | --- | --- | --- | --- |
| Players |   | Grade |   |   | Number |   | Position |
|   |   |   |   |   |   |   |   |
| Makenna Anthony |   | 9 |   |   | 1 |   |   |
| Kate Cutis |   | 9 |   |   | 5 |   |   |
| Ashlee Anderson |   | 10 |   |   | 9 |   |   |
| Alexa Iyatunguk |   | 9 |   |   | 10 |   |   |
| Avery Ellis |   | 9 |   |   | 12 |   |   |
| Brooke Abel |   | 10 |   |   | 13 |   |   |
| Dasiy Hicks |   | 10 |   |   | 14 |   |   |
| Wynter Yeager |   | 10 |   |   | 15 |   |   |
| Emma Weeks |   | 10 |   |   | 20 |   |   |
| Nancy Nicholi |   | 9 |   |   |   |   |   |
| Diva Theies |   | 10 |   |   |   |   |   |
| Shyra Loomis |   | 9 |   |   |   |   |   |
|   |   |   |   |   |   |   |   |
JV Roster
| | | | | | | | |
| --- | --- | --- | --- | --- | --- | --- | --- |
| Players |   | Grade |   |   | Number |   | Position |
|   |   |   |   |   |   |   |   |
| Julia Smith |   | 10 |   |   | 3 |   |   |
| Zoey Ellis |   | 10 |   |   | 5 |   |   |
| Sammy Napoka |   | 12 |   |   | 6 |   |   |
| Shelby Burman |   | 10 |   |   | 7 |   |   |
| Avery Ellis |   | 9 |   |   | 8 |   |   |
| Kailey Stynsberg |   | 9 |   |   | 10 |   |   |
| Avery White |   | 10 |   |   | 11 |   |   |
| Serenity Freeman |   | 11 |   |   | 12 |   |   |
| Brooke Abel |   | 10 |   |   | 13 |   |   |
| Destiny Langston |   | 10 |   |   | 15 |   |   |
| Emma Weeks |   | 10 |   |   | 16 |   |   |
|   |   |   |   |   |   |   |   |
Varsity Roster
| | | | | | | | | |
| --- | --- | --- | --- | --- | --- | --- | --- | --- |
| Players |   | Year |   | Number |   | Position |   | Height |
|   |   |   |   |   |   |   |   |   |
| McKinlee Jeffreys |   | 12 |   | 1 |   | DS |   | 5'5" |
| Maggie Grenier |   | 10 |   | 2 |   | S/OP |   | 5'2" |
| Julia Smith |   | 10 |   | 3 |   | DS/LIB |   | 5'2" |
| Savanna Stock |   | 11 |   | 4 |   | Set/OP |   | 5'4" |
| Rylee Ellis |   | 12 |   | 5 |   | DS/OS |   | 5'4" |
| Kailey Stynsberg |   | 9 |   | 6 |   | DS/OS |   | 5'3" |
| Serenity Freeman |   | 11 |   | 7 |   | OS |   | 5'5" |
| Jaycee Tauriainen |   | 12 |   | 8 |   | OS/S |   | 5'6" |
| Ashlynne Playle |   | 9 |   | 9 |   | MB |   | 6′ |
| Avery White |   | 10 |   | 10 |   | OS/DS |   | 5'6" |
| Maylisa Hodges |   | 11 |   | 11 |   | DS/LIB |   | 5'2" |
| Camry Ellis |   | 12 |   | 12 |   | OS |   | 5'5" |
| Ariel VanZandt |   | 12 |   | 13 |   | MB |   | 5'10" |
| Ember Nelson |   | 11 |   | 14 |   | S/OP |   | 5'4" |