KPBSD Key Communicators
People move in the direction of their conversations and seek accurate stories and information about the school district.
Link: KPBSD Communications Blog
Who
Key Communicators help people in their local communities learn more about KPBSD, while also assisting the school district to learn and understand more about what people in our schools and community think, feel, and know. The concept is to promote a continuing exchange between Key Communicators and the school district, creating a loosely connected group of parents and citizens for two way communication and advocacy.
Opportunity
KPBSD formed a network of people who are interested in our schools in order to cultivate positive relationships with the school district and in our diverse communities. Conversations happen every day in school parking lots, at the grocery store, via social media, and so forth. The idea is that our Key Communicators will be kept informed about school district initiatives, issues, and celebrations through responses to questions, email messages, media releases, and newsletters from district office communications. Together we will broaden community advocates.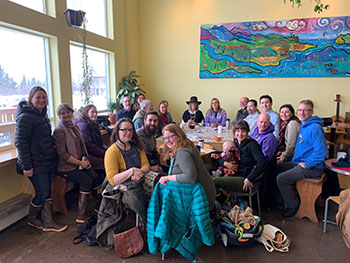 Commitment
Key Communicators are asked to read the emails and information sent from KPBSD Communications, and share any misconceptions, perceptions, or concerns they hear with KPBSD communications. If a particular issue arises, we may opt to ask you brief questions, utilize an area gathering, advocate or testify with legislators and community members depending on the topic, or broaden our understanding by directly contacting Key Communicators. Your name and contact information will not be published online anywhere as a contact for your school. Participation in Key Communicators is open, with no time frame limit. An annual survey will be conducted to determine shifts needed to grow positive and effective communications.
Meet and Greet  
Key Communicators, district leadership, school board members, and any interested school staff are invited to gather informally for meet and greets, or local coffee and conversation times. These are valuable opportunities to meet face-to-face, connect, listen, ask questions, and learn about things that are happening in the school district and with Key Communicators. Please come to one of these gatherings. Everyone is welcome.
Action
Every year, school principals nominate 2-3 people in their school community and provide Pegge Erkeneff, director of communications, community, and government relations, with the name, context, connection, or position in the community, and contact information including email, address, and telephone. Communications then take place between the district office and Key Communicators.
If you are interested in becoming a KPBSD Key Communicator, please email Pegge Erkeneff, communications director, at Communications@kpbsd.org.