Students and Parents
Welcome Students and Parents!
This page is intended to provide you with information you may need throughout the school year. Please contact us with your suggestions and/or feedback by sending an email to: webmaster@kpbsd.k12.ak.us
 
---
Federal Programs Newsletter
 

Title I
Migrant
Title VII
ELL
Assessment
Students in Transition
Kenai Peninsula Native Youth Leadership

 
One-Stop Student Information Portal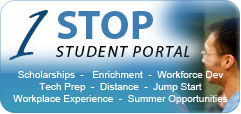 In cooperation with counselors, members of the workforce development program, and the distance coordinator, we have launched a unique website called One-Stop student portal. For those of you who have yet to view the OneStop Student Portal site, it offers students, counselors, parents, and staff a way to easily organize and access various opportunities for students into one easy-to-find location. It's all about organizing this information, so that students can benefit from the collaborative efforts of staff members in a variety of programs across the school district.
Information available includes scholarships, enrichment opportunities, career and tech, and workforce development information. If you are interested and would like to view the site, it can be found at the following link:
One-Stop Student Portal Link:
http://onestop.kpbsd.k12.ak.us