The 2022 ASTE Teacher of the Year journey began for Billeen Carlson in 2008 as a substitute teacher in the Kenai Peninsula Borough School District, then in 2017 after earning her Master of Arts in Teaching degree, she began teaching as a secondary (6-12 grade) generalist teacher at Nikolaevsk School. She is a Homer High School alumni [Class of 1994], and graduate of the University of Alaska Anchorage.
ASTE President Bill Burr said, "We were honored have celebrate Billeen as the ASTE Teacher of the year. She is a true example of the power of teaching for her students. She is moving education forward by giving students choice and voice."
"I am thrilled that Ms. Carlson was named the ASTE educator of the year," said Superintendent Clayton Holland. Ms. Carlson brings a high level of enthusiasm and a willingness to step in and help students and staff from across the district with remote instruction and the use of technology to maximize the effectiveness of instruction and learning. Congratulations to Billeen on this much deserved recognition!"
"I was surprised to receive this award," said Billeen. "Our district is full of experienced, technologically savvy educators who put students first. Of the team who attended ASTE, most presented on tools and strategies to the statewide audience. As far as districts in the state, the Kenai was the most highly represented. As a district, we should be proud of our level of educational competency.
I would particularly like to thank my administrator, Mike Sellers, who has encouraged me to 'fail forward' at every step in my growth as an educator. I have felt empowered to learn and apply my learning to the benefit of my students. I would also like to thank Amanda Adams who lit a fire under me about collaborating with my colleagues and sharing my expertise. She made me feel like I had something to add to the bigger conversation and that I had better get off my tuckus and add it."
Thoughts from the 2022 ASTE Teacher of the Year
Career path influences
I was blessed by a series of deeply caring and inspirational teachers during my time as a student in the KPBSD. Jim Holcomb & Nina Faust were particularly supportive while I was in high school. They helped me believe in myself and encouraged me to develop my strengths rather than hammering on my deficits.
In the right place at the right time
I love the challenge of working with diverse groups of students in challenging environments. The pandemic shut down provided me the opportunity to leverage my technology skills to the benefit of my students and colleagues. I also enjoy working with students to personalize their learning experiences and to help them meet performance standards in non-traditional ways. With all of the chaos and hardships surrounding education in the last couple of years, I have been blessed with the right skills, the right mindset, and the right level of resiliency to rise above our challenges.
Challenges and solutions
I know firsthand that, in order to be a successful adult, people need to know how to advocate for themselves and how to manage their own learning; I have loved our school district's push to provide these skills for our students. Our communities on the Kenai Peninsula are particularly hard hit by stressors and Adverse Childhood Experiences—it is important for our students to be deliberately taught resiliency skills and to learn how to learn and how to advocate for themselves as they move into adulthood.
Insight for K-12 students
Set goals, be an advocate for yourself and others, take ownership of your learning, and be confident that hard work will pay off. And know that the inverse is also true.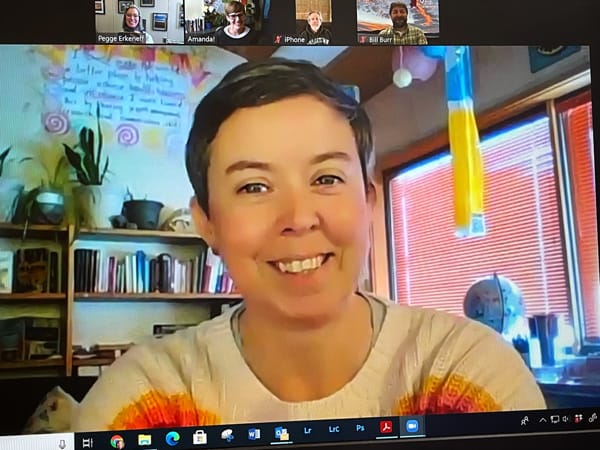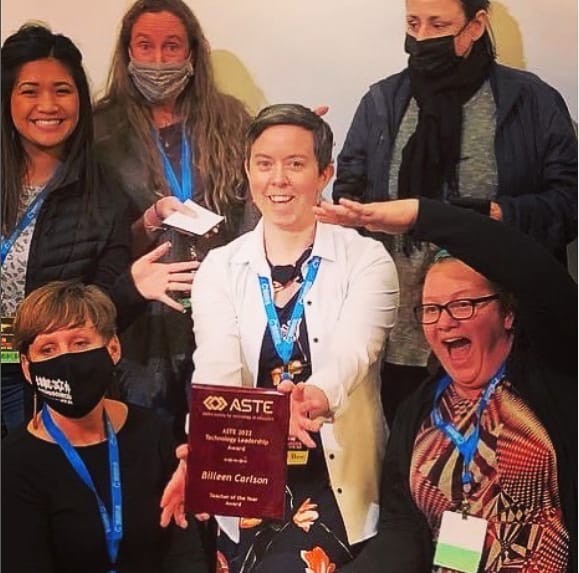 Billeen attended Chapman School (1990), Homer High School (Class of 1994), earned an Associate of Arts degree in English from Kenai Peninsula College (2004), a Bachelor of Arts in History (2010) and Master of Arts in Teaching (MAT) for Secondary Education with a social studies focus (2012) from the University of Alaska Anchorage UAA.
What is ASTE and why is it important for learning? An ASTE staff blog post explains, "Once upon a time, in a galaxy far, far away the landscape of education and learning was limited to the classroom that a student and teacher were sitting in. It depended on the books and tools at their disposal, and it depended on the capacity and endurance of the teachers and students to seek beyond what was in that room. There were borders, boundaries, and geographical distances isolating humans. Technology has continually diminished these barriers offering us a glimpse into the depths of what is possible. Expanding worldviews. Building relevance. Finding common ground to solve problems faced by not one person or culture, but by us all."
Links